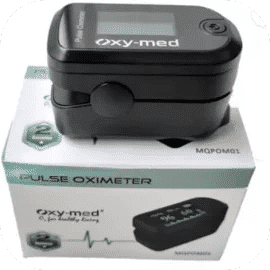 OXY-MED PULSE OXIMETER (2 years warranty)
Small, lightweight device to monitor the amount of oxygen carried in the body. This noninvasive tool attaches painlessly to your fingertip, sending two wavelengths of light through the finger to measure your pulse rate and how much oxygen is in your system.
50 in stock
Description
Specifications:-
Tough exterior 

High accuracy  

PI index  

Low battery indicator 

Automatic Power off  

PR waveform display  

Four way display screen  

OLED display  

Break Resistant
Only logged in customers who have purchased this product may leave a review.
Product Enquiry
Quick Comparison
Settings
OXY-MED PULSE OXIMETER (2 years warranty)

remove

NASAL CANNULA

remove

Philips System One BiPAP AutoSV Sleep Therapy Device

remove

Philips System One BiPAP Auto With Bi-Flex Sleep Therapy Device

remove

CYLINDER TROLLEY

remove

BIPAP MASK

remove

Name
OXY-MED PULSE OXIMETER (2 years warranty)

remove

NASAL CANNULA

remove

Philips System One BiPAP AutoSV Sleep Therapy Device

remove

Philips System One BiPAP Auto With Bi-Flex Sleep Therapy Device

remove

CYLINDER TROLLEY

remove

BIPAP MASK

remove

Image
SKU
OXY0009
OXY00013
OXY0005
OXY0004
OXY00019
OXY00015
Rating
Price
Stock

50 in stock

Out of stock

Out of stock

Out of stock

Out of stock

50 in stock

Availability
50 in stock
Out of stock
Out of stock
Out of stock
Out of stock
50 in stock
Add to cart
Description

Small, lightweight device to monitor the amount of oxygen carried in the body. This noninvasive tool attaches painlessly to your fingertip, sending two wavelengths of light through the finger to measure your pulse rate and how much oxygen is in your system.

Flexible tube contains two open prongs intended to sit just inside your nostrils, to deliver supplemental oxygen or increased airflow to a patient or person in need of respiratory help. 

Advanced, clinically-proven technologies, in one device BiPAP autoSV Advanced makes patient management nearly automatic  and provides optimal therapy for even your most complicated sleep-disordered breathing cases.

Bi-Flex pressure relief technology makes BiPAP therapy more like natural breathing by delivering pressure relief.

The BiPAP Auto Bi-flex system has CPAP, fixed bi-level, and auto bi-level modes. 

For easy and swift movement of cylinger

Non-invasive ventilation accessory used to deliver oxygen  when connected to CPAP or BiPAP machines. Covers the full face, ensuring an airtight seal and effective ventilation therapy even when the patient is breathing through the mouth.

Content
Specifications:-

Tough exterior 

High accuracy  

PI index  

Low battery indicator 

Automatic Power off  

PR waveform display  

Four way display screen  

OLED display  

Break Resistant

| | |
| --- | --- |
| Model | Philips System One BiPAP AutoSV Sleep Therapy Device |
| Pressure Range | 4 to 25 (EPAP) and 4 to 25 (IPAP) cm H2O |
| Compliance Meter | Breathing Detection |
| Ramp Time | 0 to 45 (5-min. increments) min |
| Altitude Compensation | Automatic |
| Flex Pressure Relief | Bi-Flex |
| Warranty | Two years; Replace with new |
| Starting Ramp Pressure | 4 to EPAP (Patient-Adjustable) cm H2O |
| Humidification | Integrates with System One Heated Humidifier |
| Miscellaneous | Lighted LED |
| Weight without Humidifier | 1.53 (3.37) kg (lbs) |
| Electrical Requirements | 100-240 VAC and 50/60 Hz |
| Device set-up | LCD/Control wheel/Push Button |
| Dimensions without Humidifier | 18 cm L x 14 cm W x 10 cm H (7" L x 5.5" W x 4" H) |
| Onboard data Storage Capacity (minimum) | up to 6 mon |
| Data storage capacity SD Card (minimum) | 1 Year |

| | |
| --- | --- |
| Model | Philips System One BiPAP Auto With Bi-Flex Sleep Therapy Device  |
| Pressure Range | 4 to 25 cm H2O |
| Compliance Meter | Breathing Detection |
| Ramp Time | 0 to 45 min (5-min increments) min |
| Altitude Compensation | Automatic |
| Flex Pressure Relief | 0 to 3 cm H2O |
| Warranty | 2 Years |
| Starting Ramp Pressure | 4 to min EPAP Pressure (Patient Adjustable) and 4 to min EPAP Pressure (auto mode) cm H2O |
| Miscellaneous | Lighted LEDs |
| Device set-up | LCD/Control wheel/Push Button |
| Data Storage Capacity Display (minimum) | Compliance VIC,1-,7- and 30-day Averages |
| Data Storage Capacity SD Card (minimum) | 1 Year |
| Diameter | 18 cm L x 14 cm W x 10 cm H (7" L x 5.5" W x 4" H) |
| Weight without Humidifier | 1.36 (3) kg (lbs) |
| Electrical Requirements | 100-240 VAC and 50/60 Hz |

Weight
N/A
N/A
N/A
N/A
N/A
N/A
Dimensions
N/A
N/A
N/A
N/A
N/A
N/A
Additional information